June 2009 FXca Update
fresh expressions canada update
June 2nd 2009
At Pentecost we celebrate the occasion on which the Holy Spirit empowered the church for, and propelled the church into, its part in God's mission in the world. The theologian Emil Brunner once said: 'As a fire exists by burning so the Church exists by mission; if there is no burning there is no fire; if there is no mission there is no Church.' It is God's mission that we seek to be shaped by and for. Much has happened in the past months that relates to Fresh Expressions Canada, and I want to tell you about some of the most exciting things!
St. James, Dundas, in the Diocese of Niagara, hosted an excellent Vision Day on May 9th, where Bishop Michael and over seventy five clergy and laity spent an interactive an energising day imagining what mission-shaped churches might look like.
We are delighted to welcome Sue Kalbfleisch to the FXCA team as our Vision Day Coordinator. Sue lives in Hamilton Ontario and is a retired teacher. She is active in promoting fresh expressions of church in the Diocese of Niagara and recently organized a Fresh Expressions Vision Day for Niagara. Sue brings a wealth of experience having organized professional development days, developed 'train the trainer' programming for teachers in Hong Kong and organized national sports competitions and camps. She has also organized and led Youth and Sunday school programs and Youth retreats.
If you are interested in having a Vision Day in your locality, email Sue at sue.kalbfleisch@freshexpressions.ca
As we told you last month, we had the privilege of meeting with Bishop Graham Cray, the new Archbishops' Missioner and Team Leader of Fresh Expressions in England, during the week he spent in Toronto recently. He and his wife Rev. Jackie Cray, had lunch with Archbishop Fred Hiltz among others to discuss the Fresh Expressions initiative. It was exciting to see the enthusiastic response that many had to what Bishop Graham had to say.
Thomas Brauer reports on the recent Messy Fiesta,
held in Fort Sakatchewan, AB, recently. "Messy Church took off in the Diocese of Edmonton with the success of our most recent Messy Fiesta in Fort Saskatchewan on May 9. This event which crossed denominational boundaries, was so well received that we're hosting another one in Spruce Grove." Click here to read more.
Canon Phil Potter from the Diocese of Liverpool in England, spoke twice to nearly eight hundred people at the recent Diocese of Toronto synod. Read the text of his excellent sessions here and here. There was also the opportunity for several workshop leaders to explain more about the Fresh Expressions iniative.
Phil was also able to spend a day with clergy and lay leaders in the Diocese of Montreal, encouraging us in becoming more mission shaped in our congregations and parishes.
With summer already at the door, many of us are looking forward to relaxing and enjoying the longer days and hopefully warmer weather. It is also a time to plan for the fall and winter. So why not think about having a Vision Day for the churches in your area, or maybe running the excellent six-session Mission Shaped Intro course with neighbouring churches.We would be delighted to help you in any way we can, so please do not hesitate to be in touch.
Yours sincerely in the power of the Holy Spirit,
Nick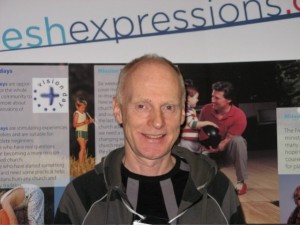 Nick Brotherwood
team leader FXCA
514-246 5796
www.freshexpressions.ca
nick.brotherwood@freshexpressions.ca
Skype address: nick.brotherwood