FXCA may update
may 2010 update
Hi there!
Back in December we told you about the church in Perth, ON, that had welcomed skateboarders into their hall, after initially chasing them away. Well, Andy & Sue Kalbfleisch took their video camera down to Perth recently and shot an excellent video called "Skater Church." It's a wonderful story about the exciting things that can happen when we start thinking missionally. Watch Skater Church here!
Fresh Expressions Canada on the road! The next four weeks is a busy time. Nick  is presenting two workshops at the Stewardship in Perspective conference in Kemptville, ON, May 8.  Jenny Andison & Nick are plenary speakers at the Huron Diocesan Synod May 17 & 18, while Nick has been asked to address General Synod, in Halifax, NS, on June 7th. Please pray for these important opportunities . If you are going to be at any of those events, please make sure to come and say "Hi!" to us!
FXCA gets favourable mention in the Anglican Journal.
"… there are pockets of innovation where we can find committed Anglicans living out their faith in new ways. We need to connect with them and learn from them. Organizations such as Fresh Expressions Canada are already working on the frontlines of the evolving church in Canada. Why are we not looking more closely at adopting and adapting the concept of Fresh Expressions for broader application? If it's good enough for Rowan Williams, the Archbishop of Canterbury, it must have something going for it." Read the complete editorial by Kristin Jenkins here.
Mission Shaped Intro course to run in four locations in the Toronto diocese

"Have you ever thought about starting a fresh expression of church? Do you wonder what all the talk about "being missional" means or have concerns about it? The diocese has a course for you. It's called Mission Shaped Intro and it will be held in each episcopal area this fall so that wherever you are in the diocese, you will have the chance to attend." Read the complete article by Stuart Mann here.
Mission Shaped Intro (MSI)-six weeks to rediscover mission and re-imagine church This excellent six-session course can be freely    downloaded and presented in your neighbourhood. To find out more email msi@freshexpressions.ca
Getting Messy in Georgetown!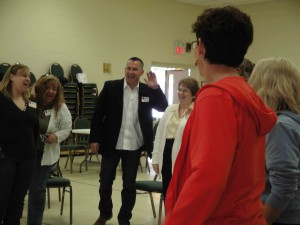 An enthusiastic group of participants from the Dioceses of Niagara and Huron as well as from several United Churches, joined Sue Kalbfleisch and Rev. Nancy Rowe at St. George's Anglican Church, Georgetown (Ontario) for a lively and thought provoking Messy Fiesta.  A Messy Fiesta is a full day program designed for participants to experience Messy Church and explore innovative ways to be church with families in a changing world.
Space is still available for the upcoming Messy Fiesta in Thorold Ontario on
Saturday, May 15 , 2010
from 10am – 3:00pm
Hosted by: St. John the Evangelist Anglican Church, 12 Carleton St. S., 
Thorold,
ON, 
L2V 5C2. .Cost: $15.00
Please contact Sue Kalbfleisch at 905‐648‐0302 or freshexpressions@niagara.anglican.ca with questions, or just
download
the flyer and registration form.
If you haven't heard about Messy Church, go to www.messychurch.org.uk to see a great promo video!
Mission Shaped Ministry (MSM) course leader announced
United Church Minister and Church Planter Rev. Dr. Connie denBok will lead the first MSM course to take place in Canada this Fall.-8 months to be equipped in planting and sustaining fresh expressions of church, MSM will  run from Sept. 2010 -April 2011, comprising 6 weekday evenings, 3 Saturdays, and a residential weekend away.  Based in Toronto, we hope to have clusters in other cities which will meet at the same time and be conferenced together! Click here to watch a short video.
For more information email our msm coordinator, John Bowen at msm@freshexpressions.ca

Your last chance to register for the first Vital Church Planting West Conference taking place May 18-20 in  Edmonton, AB, with Canon Phil Potter, Director of Pioneer Ministry for the Diocese of Liverpool, and Harold Roscher the Director/Chaplain of the Edmonton Native Healing Centre. Click here to register or find out more. If you were at VCP-East, tell your friends in Alberta how good it was!

We are at just over 70 registrants. This is very exciting, and there is a good mix of people from both inside and outside the Edmonton area.
We need your stories of what's going on in your area, to put on the FXCA website. Stories of attempts to start something new, something which may stand a chance of developing into a fresh expression of church. Here is an example of what we are looking for, from Peterborough, ON, something that started as a result of a casual remark.  Is it a fresh expression of church? I guess we'll have to just wait and see! Please send your story with photos to web@freshexpressions.ca
Please pray for all of us involved in encouraging "the development of fresh expressions of church alongside more traditional expressions, with the aim of seeing a more mission-shaped church take shape throughout the country." Yes, it's a huge job, but with God nothing is impossible, even though it is seldom easy!
Thanks so much for your interest in Fresh Expressions Canada. If you would like to support the work financially you can do so by clicking here and filling out the form, selecting "Other," from the "I would like to direct my gift to:" options, and writing Fresh Expressions in the "Please Specify" box.
It's going to be a busy month, and we look forward to seeing some of you at the many upcoming events!
Yours in the risen Christ,

the Fresh Expressions Canada team, Ryan, Sue, Thomas, Jenny, John, &…
Nick Brotherwood
Team Leader-Fresh Expressions Canada
nick.brotherwood@freshexpressions.ca